Innovation. Craftsmanship. Reliability.
Products
Most Compact/Feature Driven Product Line Offering In The Market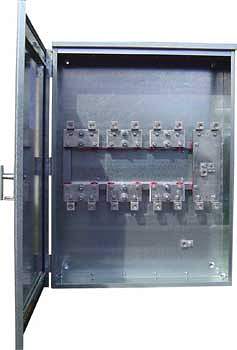 Ratings are 400 – 4000 amp 600 volt, 3 phase 4wire, and 1 phase 3wire, NEMA 1/3R dual rated and Isc ratings of 85KA RMS symmetrical with no cable lashing required. (Please contact factory for higher Ratings)
Cabinets are surface mounted or free standing, suitable for indoor or out door applications.
Cabinets are provided with hinged door and 3 point heavy duty handle that will accommodate all requirements from sealing rings, barrel locks, padlocks, plus dual padlocks for owner / utility dual locking provision.
Cabinets are ETL listed and labeled as per UL 414. Cabinets meet all Nema and NEC code standards.