Innovation. Craftsmanship. Reliability.
Products
Compact / Competitively Priced Solution For Combination Main Fused Switch And Utility Metering Provision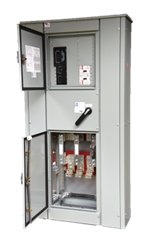 Ratings are 100 - 1200 amp 240 and 600 volt, 3 phase 4wire, and 1 phase 3wire, NEMA 1/3R dual rated and Isc ratings of 85KA RMS symmetrical with no cable lashing required. (Please contact factory for higher Ratings)
All cabinets are surface mounted suitable for indoor or outdoor applications.
All panels are listed and labeled as per UL 891/414, suitable for service entrance equipment. Cabinets meet all Nema and NEC code standards.
If used as a Service Disconect on services per NEC 1200 Amp that switches require ground fault protection. This unit will NOT qualify. Consult factory for switch unit with required ground fault protection capabilities.
Wiring: Line is at the top or bottom and load is always on the opposite end.