Innovation. Craftsmanship. Reliability.
Generator Termination Cabinet / Docking Station
Generator Termination Cabinet with Manual Transfer Switch & Camlocks
AMP provides a quick and convenient station to connect external generator power, with an integral fused double throw service entrance rated manual transfer switch to safely and easily transfer sources. Whether it is long or short term utility outage, facility maintenance, or whatever the needs are; AMP's GTCDT will keep you up and running.
Ratings are 100 – 3000A, 600V, 3 phase 4 wire, 3 phase 3 wire and 1 phase 3 wire, NEMA 1/3R dual rates and Isc ratings of 85KA RMS symmetrical with no cable lashing required. (Please contact factory for higher ratings.)
Cabinets are either wall mount or free standing for indoor or outdoor applications.
Our GTCDT meets the NEC 700.3 (F) requirements. Contact factory for additional details.
Auxilliary contacts 1 set
UL listed and labeled to UL standards 891.
Cabinets meet all NEMA and NEC code standards.
Cabinets provided with electrical grade plated Aluminum or option plated Copper bus bars.
Contact factory for applications with 1200 amp 480 volt and greater, requiring NEC ground fault
Generator Termination Cabinets Wall Mounted w/ Non-Fused Manual Transfer Switch & Camlocks comes with "AUX contacts on Source One".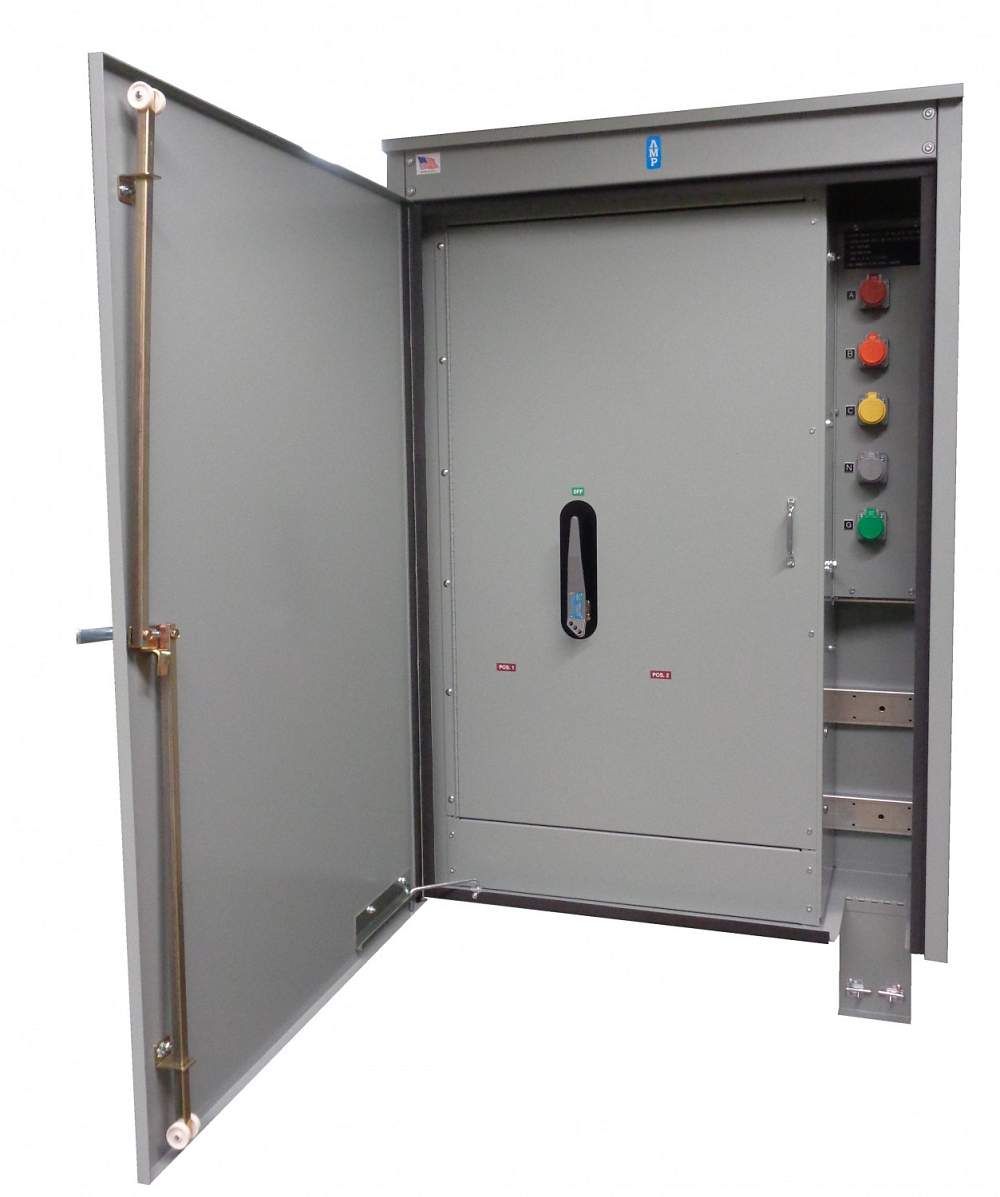 Generator Termination Cabinets Wall Mounted w/ Fused Manual Transfer Switch & Camlocks
Total Amp Rating
Cat. No
600 Volt / 3 Phase - 4 Wire
Cat. No
250 Volt / 1 Phase - 3 Wire

Normal Load Lugs Req'D Per PH N & G
L=(Lugs Included) / C=(CAMLOCKS)

AL Bus List Price
CU Bus List Price
AL Bus List Price
CU Bus List Price
100
GTCDTWC1-4A
7,190.00
7,590.00
GTCDTWC1-3A
6,990.00
7,390.00
1L/1C
200
GTCDTWC2-4A
9,940.00
11,740.00
GTCDTWC2-3A
9,440.00
11,090.00
1L/1C
400
GTCDTWC4-4A
10,090.00
11,890.00
GTCDTWC4-3A
9,590.00
11,240.00
1L/1C
600
GTCDTWC6-4C
Contact factory
12,308.00
GTCDTWC6-3C
Contact factory
11,560.00
2L/2C
* Cat. No last digit (A) for ALUMINUM BUS or (C) for COPPER BUS
Generator Termination Cabinets Pad Mounted w/ Fused Manual Transfer Switch & Camlocks
Total Amp Rating
600 Volt / 3 Phase - 4 Wire
250 Volt / 1 Phase - 3 Wire
Normal Load Lugs Req'D Per PH N & G
L=(Lugs Included) / C=(CAMLOCKS)
Cat. No.
List Price
Cat. No.
List Price
600
GTCDTPC6-4A
13,300.00
GTCDTPC6-3A
12,700.00
2L/2C
800
GTCDTPC8-4A
19,700.00
GTCDTPC8-3A
19,070.00
2L/2C
1200
GTCDTPC12-4A
23,640.00
GTCDTPC12-3A
22,750.00
4L/3C
1600
GTCDTPC16-4A
28,930.00
GTCDTPC16-3A
27,780.00
5L/4C
2000
GTCDTPC20-4A
32,780.00
GTCDTPC20-3A
Contact Factory
6L/5C
2500
GTCDTPC25-4A
38,570.00
GTCDTPC25-3A
Contact Factory
7L/7C
3000
GTCDTPC30-4A
47,915.00
GTCDTPC30-3A
Contact Factory
8L/8C
Generator Termination Cabinets Wall Mounted w/ Non-Fused Manual Transfer Switch & Camlocks
Total Amp Rating
600 Volt / 3 Phase - 4 Wire
Normal Load Lugs Req'D Per PH N & G
L=(Lugs Included) / C=(CAMLOCKS)
Cat. No.
List Price
100
GTCDTNFWC1-4A
4,360.00
1L/1C
200
GTCDTNFWC2-4A
4,840.00
1L/1C
Contact Factory for available options
- Single Phase
- 4 pole switched neutrals
UL listed and labeled to UL standards 891