Innovation. Craftsmanship. Reliability.
Combo-Metering / Multiple Main
Compact, Competitively Priced And Readily Available: Combination Six Disconnect Rule Panel With Utility Metering Provision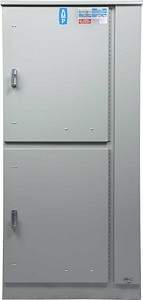 Ratings are 400 - 1200 amp 240 and 600 volt, 3 phase 4wire, and 1 phase 3wire, NEMA 1/3R dual rated and Isc ratings of 85KA RMS symmetrical with no cable lashing required. (Please contact factory for higher Ratings)
All cabinets are surface mounted suitable for indoor or outdoor applications. Made from code gauge galvanized steel with tamper-proof separate doors over CT section and main disconnect section. Both doors are supplied with three point padlockalble handles.
All panels are listed and labeled as suitable for service entrance equipment per UL 414 / 891 standard. Cabinets meet all Nema and NEC code standards.
By adding (PB**) Pull box option field installed only, allows line and load entry in the same end of cabinet.